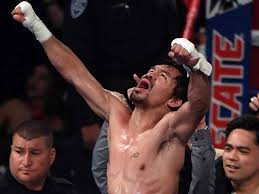 Just when we thought Manny Pacquiao will still fight for two more, we were wrong.
Manny Pacquiao versus Yordenis Ugas, an unknown opponent, was the last foe of
PacMan. It would've been nice if it was Errol Spence Jr. right?
Regardless of the result their fight would been a fitting ending to the boxing's only eight-
division world champion's legendary career.
However, it is what it is. He will now embark to a new journey.
I was able to cover most of Manny Pacquiao's fight in the US. I even did interviews with
him for local radio station back in the Philippines.
Continue reading 'cause I'm about to tell you what went through on his last boxing
match.
Pacquiao's training were still at a high even with the last-minute replacement, Pacquiao
was adapting well to an orthodox opponent. His diet remained strict and he continued
doing bible sessions and even his Senate duties via online.
He stepped in the ring brimming with confidence just like the other fights, and there
were no signs that it will be his last.
He then cramped his calf and eventually cost him to lose to Ugas.
Many noticed the deterioration on his speed and power. Well, maybe that's the reason
why everyone was not surprised when he officially retired.
But he didn't retire because he can't fight no longer, but because he is firm on his
political goal, the highest position in a country.
I am lucky to be beside Pacquiao on his last fight. In training, meals, press conference
and on the fight night. It was indeed a great ride following and covering Manny
Pacquiao.